Welcome to the Idea House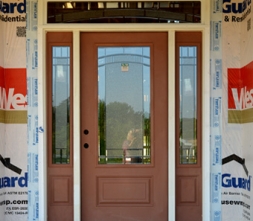 Historically, a red front door has implied various meanings derived from faith, heritage and philosophy.
We believe our homes relate to the significance of a red door, which is why we decided upon the color for the door of the 2014 Idea House. Our homes are a place to be protected, to welcome and entertain guests, and affordable.
Below are a few meanings that helped inspire the 2014 Idea House front door selection:
Biblically, a red front door invites protection from the angel of death. In old Catholicism churches painted the doors of the church red to represent the blood of Christ. Passing through the door would mean that you were on holy ground. Some believe a red door protects the occupants from evil.
In Feng Shui, a red front door means "welcome." In early American tradition a red door was a symbol to tired travelers that they were welcomed to stop and rest.
Residents of Scotland have historically painted a front door to signify a mortgage-free home.